Find Location
4131E Oregon Pike
Ephrata, PA 17522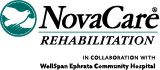 Hours
| Day of the Week | Hours |
| --- | --- |
| Monday: | 8:00 AM - 7:00 PM |
| Tuesday: | 7:00 AM - 7:00 PM |
| Wednesday: | 8:00 AM - 7:00 PM |
| Thursday: | 8:00 AM - 4:30 PM |
| Friday: | 7:00 AM - 12:00 PM |
| Saturday: | Closed |
| Sunday: | Closed |
Featured Services
Physical Therapy
Orthopaedic Rehabilitation
Hand Therapy
Occupational Therapy
Sports Medicine
Return-to-Work Program
Work Conditioning
View All Services
About
At NovaCare Rehabilitation, in collaboration with WellSpan Ephrata Community Hospital, our experienced clinical team will design an individualized plan of care that aligns with your specific goals in mind. Through experience, advanced clinical training and clear communication with our patients, our therapy team will give you the advantage in recovery. We are proud to be part of the community and are committed to providing each patient with an exceptional experience that promotes healing and recovery in a safe, compassionate environment. Call or request an appointment and experience the power of physical therapy today.
During this time, we are keenly focused on your safety while helping you feel better. Our center is open and here to serve those in need. The Department of Homeland Security and state governments have deemed physical therapy an essential component of health care during the coronavirus (COVID-19) pandemic. We are taking extensive preventative measures, guided by the CDC, to protect our patients and employees who enter our center. Should you not feel comfortable visiting our center at this time, we are also offering telerehab services so you can easily connect with one of our licensed therapists through web-based technology that is HIPAA compliant. Contact us today for more information.
Our Team
Brittany Bechtold, DPT, Center Manager
Brittany graduated with her doctorate of physical therapy from Thomas Jefferson University in 2017. She has a passion for physical therapy and helping patients heal through movement. Brittany enjoys treating patients of all ages and has experience in orthopedics, sports rehab, concussion, vestibular, pediatric and geriatric physical therapy. Outside of the center, she enjoys spending time with her husband and their dog, Luna Lovegood, Taco Tuesdays and beating her husband in fantasy football.
Sarah Crowther, DPT
Sara is known as "Ms. Sarah" to patients. She has been at NovaCare since 2013 and a physical therapist since 2009 after graduating with a doctorate from Lebanon Valley College. Sarah specializes in pediatrics. She began working at Lancaster-Lebanon IU13 and sees children of all ages and diagnoses. She is passionate about working with children and uplifting families who may need to commit to physical therapy short-term or long-term to benefit their child's gross motor development or recovery from injury or surgery. She works part-time to spend quality time with her three children. She and her husband graduated from Ephrata High School together and live in Lititz. She is involved with her church, plans travel adventures, tries new beauty trends, cooks new recipes or works out in her basement gym with the music blaring.
Nicole Eberly, PTA
Nicole's favorite thing about physical therapy is the way it brings healing and hope into people's lives. In Brownstown, she treats kiddos and adults, working alongside Ms. Sarah and Brittany to collaboratively provide quality care. Outside of work, Nicole can often be found at church volunteering with the high school ministry. Other things that bring her joy in life are coffee, tea, reading, music and the outdoors.
Stacy Sauder, Patient Service Specialist
Stacy attended Garden Spot High School. When she is not working, she is either bowling or going camping. She has one dog named, Brian.
All Services
Physical Therapy
Physical Therapy
Orthopaedic Rehabilitation
Fall Prevention Program
Manual Therapy
Neurologic Rehabilitation
Pain Management
Pre-/Post-Operative Care
ReVital Cancer Rehabilitation
Spine Program
TMJ/TMD Rehabilitation
Vestibular Rehabilitation
Cupping Therapy
Fibromyalgia Treatment
Instrument-Assisted Soft Tissue Mobilization
Obesity / Bariatric Care
Personalized Orthopedic Weight Reduction Program (POWR)
Hand Therapy
Hand Therapy
Occupational Therapy
Sports Medicine
Sports Medicine
Concussion Management
Functional Movement Screen
Work Health
Return-to-Work Program
Work Conditioning
Post-Offer Employment Testing
Work Hardening
Pediatric Therapy
Pediatric Physical Therapy
Pediatric Occupational Therapy
Pediatric Speech Therapy
Prosthetics & Orthotics
Lower Extremity Orthotics