Find Location
435 South Kinzer Avenue
Suite 2
New Holland, PA 17557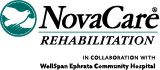 Hours
| Day of the Week | Hours |
| --- | --- |
| Monday: | 7:00 AM - 7:00 PM |
| Tuesday: | 7:00 AM - 7:00 PM |
| Wednesday: | 7:00 AM - 7:00 PM |
| Thursday: | 7:00 AM - 7:00 PM |
| Friday: | 7:00 AM - 4:00 PM |
| Saturday: | Closed |
| Sunday: | Closed |
Featured Services
Physical Therapy
Aquatic Therapy
Orthopaedic Rehabilitation
Hand Therapy
Sports Medicine
Functional Capacity Evaluations
Return-to-Work Program
View All Services
About
At NovaCare Rehabilitation, in collaboration with WellSpan Ephrata Community Hospital, our experienced clinical team will design an individualized plan of care that aligns with your specific goals in mind. Through experience, advanced clinical training and clear communication with our patients, our therapy team will give you the advantage in recovery. We are proud to be part of the community and are committed to providing each patient with an exceptional experience that promotes healing and recovery in a safe, compassionate environment. Call or request an appointment and experience the power of physical therapy today.
During this time, we are keenly focused on your safety while helping you feel better. Our center is open and here to serve those in need. The Department of Homeland Security and state governments have deemed physical therapy an essential component of health care during the coronavirus (COVID-19) pandemic. We are taking extensive preventative measures, guided by the CDC, to protect our patients and employees who enter our center. Should you not feel comfortable visiting our center at this time, we are also offering telerehab services so you can easily connect with one of our licensed therapists through web-based technology that is HIPAA compliant. Contact us today for more information.
Our Team
Danielle Burns, DPT, COMT, Center Manager
Danielle has been a physical therapist since 2009 and earned a doctorate from Lebanon Valley College. She has been a part of the NovaCare team since 2012. Danielle has earned certification in orthopedic manual therapy and loves helping patients recover through the use of hands-on techniques along with specific, individualized exercises. Danielle specializes in helping people with orthopedic and neurologic conditions and has experience rehabilitating the injured worker. She enjoys cooking, camping and being outdoors while spending time with family.
Hayley Witmer, DPT
Hayley graduated from Misericordia University's doctorate of physical therapy program in 2021. She loves working with people and enjoys getting to know their interests and goals to create the best patient outcome. She has a passion for working with the geriatric population but has experience with all age groups. She enjoys being at the beach and spending quality time with family and friends.
Greg Gurtizen, DPT
Greg earned his doctorate in physical therapy from Saint Francis University in 2014 and has been a part of the NovaCare team since. He began his career in 2014 with NovaCare in West Chester, where he has become well versed in evaluating and treating a plethora of conditions, including vestibular, concussion, neural mobilization, soft tissue injuries, post surgical, temporomandibular joint dysfunction, sports medicine/athletics and chronic pain. He also has a specialty in industrial rehabilitation entailing prevention programs working alongside employers/employees, including post offer employment testing, early symptom intervention and he is certified in functional capacity evaluations. Greg's passion for physical therapy and pain science ignited when he received PT for various sports injuries. Through his own experiences, Greg has aided the national team of Select Medical, parent company to NovaCare, to develop pain science resources for both clinicians and patients alike.
Brent Dudurich, PTA
Brent graduated from California University of PA in 2012 and joined NovaCare's team shortly after. Brent is from New Holland and graduated from Garden Spot High School. Brent specializes in aquatics, manual therapy and other orthopedic conditions
Janelle Sevilla, PTA
Janelle graduated from Lehigh Carbon Community College with an associate degree in physical therapy, and is an American Physical Therapy Association credentialed clinical instructor. Janelle enjoys running and has completed several half marathons, and likes spending time outdoors with her husband and daughter. She enjoys being a part of helping our patients recover and return to the activities they enjoy.
Jenni Zimmerman, Patient Service Specialist
Jenni began her career as a physical therapy aide in 2007 at our Brownstown location. After a few years, she advanced to the role of patient service specialist after transferring to work with our team here in New Holland. Jenni enjoys getting to know the patients and helping with all of their physical therapy needs.
Cheryl Zimmerman, Patient Service Specialist
Cheryl has been employed with NovaCare Rehabilitation, formerly The Rehab Center, since 2000. She is the friendly face that welcomes you with care and compassion. She specializes in serving our patients in scheduling and insurance verification, while making each patient feel comfortable asking any questions they may have. Cheryl's hobbies include spending time with her husband and family, cooking, scrapbooking, taking walks with her dog and watching classic movies.
Twila Gingrich, Physical Therapy Aide
Twila has been part of the NovaCare team since 2000. She has a bachelor's degree in business administration and has worked in various centers within the market. She specializes in patient scheduling, patient satisfaction, wellness orientations, pre-employment job screens and assists with patient needs. She enjoys staying active by hiking, biking and being outdoors.
Jessica Giles, Office Assistant
Jessica graduated from West Chester University in 2022 with a bachelor's degree in exercise science. Jessica enjoys getting to know the patients and helping them through their process as much as she can. She is planning on going back to school to become a physical therapist in the near future. She enjoys going to the beach, watching movies and spending time with family and friends.
All Services
Physical Therapy
Physical Therapy
Aquatic Therapy
Orthopaedic Rehabilitation
Fall Prevention Program
Manual Therapy
Neurologic Rehabilitation
Pain Management
Spine Program
TMJ/TMD Rehabilitation
Vestibular Rehabilitation
Cupping Therapy
Instrument-Assisted Soft Tissue Mobilization
Obesity / Bariatric Care
Hand Therapy
Hand Therapy
Joint Mobilization
Sports Medicine
Sports Medicine
Concussion Management
Functional Movement Screen
Work Health
Functional Capacity Evaluations
Return-to-Work Program
Work Conditioning
Ergonomic Programs
Post-Offer Employment Testing
Injury Prevention
Work Hardening
Prosthetics & Orthotics
Lower Extremity Orthotics