Find Location
270 Granite Run Drive
Lancaster, PA 17601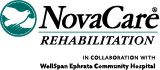 Hours
| Day of the Week | Hours |
| --- | --- |
| Monday: | 7:00 AM - 7:00 PM |
| Tuesday: | 8:00 AM - 7:00 PM |
| Wednesday: | 7:00 AM - 7:00 PM |
| Thursday: | 8:00 AM - 7:00 PM |
| Friday: | 7:00 AM - 4:00 PM |
| Saturday: | Closed |
| Sunday: | Closed |
Featured Services
Physical Therapy
Orthopaedic Rehabilitation
Hand Therapy
Sports Medicine
Functional Capacity Evaluations
Return-to-Work Program
Work Conditioning
View All Services
About
At NovaCare Rehabilitation, in collaboration with WellSpan Ephrata Community Hospital, our experienced clinical team will design an individualized plan of care that aligns with your specific goals in mind. Through experience, advanced clinical training and clear communication with our patients, our therapy team will give you the advantage in recovery. We are proud to be part of the community and are committed to providing each patient with an exceptional experience that promotes healing and recovery in a safe, compassionate environment. Call or request an appointment and experience the power of physical therapy today.
During this time, we are keenly focused on your safety while helping you feel better. Our center is open and here to serve those in need. The Department of Homeland Security and state governments have deemed physical therapy an essential component of health care during the coronavirus (COVID-19) pandemic. We are taking extensive preventative measures, guided by the CDC, to protect our patients and employees who enter our center. Should you not feel comfortable visiting our center at this time, we are also offering telerehab services so you can easily connect with one of our licensed therapists through web-based technology that is HIPAA compliant. Contact us today for more information.
Our Team
Kristin Miller , DPT, Center Manager
Kristin earned a bachelor's degree in neuroscience from Lafayette College and doctorate in physical therapy from Lebanon Valley College. Kristin enjoys treating a variety of orthopedic and neurological conditions and takes special interest in helping patients with vestibular and balance disorders as well as patients with pelvic floor dysfunction and pregnancy-related conditions. Kristin is a Revital Cancer Rehabilitation therapist, striving to help patients experiencing cancer improve their quality of life. She believes that having open communication with patients about their health is key to developing the most beneficial treatment plan. Kristin lives in Ephrata with her husband, son and daughter, and two Goldendoodles. She enjoys attending sporting events with family, being outdoors, cooking and crafting.
Sarah Wright, DPT
Sarah graduated from Widener University in 2018 with a bachelor's degree in psychology and in 2020 with a doctorate of physical therapy. She enjoys the outpatient setting because she is passionate about treating patients across the lifespan, with a particular interest in the pediatric population. She has previously taught various styles of dance and enjoys incorporating movement patterns unique to patients' interests into their treatment sessions. Sarah works to advocate for patients to ensure a comprehensive care plan, particularly with the under-served population. Sarah enjoys spending time with her family and dogs, volunteering in the community and traveling.
Kathleen Donohue, P.T.
Kathleen graduated from Thomas Jefferson University with a bachelor's degree in physical therapy. She also has national certification as a personal trainer. Kathleen has a lifelong passion for exercise and understanding the science of human performance. Enthusiasm for fitness has driven her to participate in half-marathons, marathons and triathlons. She is an active player in the US Tennis Association. With more than 30 years of experience, Kathleen helps patients improve their capabilities and function to achieve a healthy lifestyle. She is precise and direct and believes that the body has wonderful healing capabilities when given a properly dosed physical therapy regimen. Kathleen is a long-time resident of Lancaster County. She and her husband and have three grown children.
Amy Bennett, P.T.
Amy earned a bachelor's degree in biology from James Madison University and master's degree in physical therapy from the University of Pittsburgh. Amy has spent the majority of her career working in the outpatient setting. She also spent time working in a skilled nursing facility and home health. Amy most enjoys working in an outpatient setting with patients of all ages and has a special interest treating athletes in all sports, competitive and recreational. Amy is an avid runner and was a competitive swimmer. She enjoys spending time in Sea Isle City, NJ, paddle boarding and traveling. Amy lives in Lancaster with her husband, two sons and daughter and yellow lab, Lucky.
Megan Allen, PTA
Megan earned a physical therapist assistant degree in 2007 from Harcum College, and has been practicing with NovaCare ever since. She specializes in treating general orthopedics, concussion rehabilitation and vestibular dysfunctions. She loves working with specific exercise programs and hands-on therapy techniques to get patients back to their lives faster. She enjoys seeing the changes that physical therapy brings to them. Megan enjoys spending time outside of work with her husband, two children and dog. She loves cooking, baking and going on vacation with friends and family.
Lauren Stork, PTA
Lauren received a physical therapy assistant degree from Central Penn College in December 2021. Before receiving her degree, Lauren had been an active yoga practitioner and instructor for almost eight years with Vinyasa yoga. She believes her experience in practicing yoga and working in previous medical field positions led her decision to becoming a physical therapy assistant. She is passionate about helping others in their journey of healing and will call out anyone holding their breath during exercise. Lauren lives in her hometown of Lititz with her husband and Australian shepherd. They enjoy their time together going camping, taking long hikes and backpacking.
Thomas Bucklin, PTA
A graduate of Penn State, Tom received an associate degree with a focus on Kinesiology in 2006. He has been a practicing for 16 years, 15 of which are in outpatient orthopedic care. He has a passion for helping people, with an emphasis on education and strong interpersonal skills to communicate effectively to all individuals. He enjoys performing hands-on therapy and exercises that are activity-specific to get the best outcomes. He shows an interest in and enjoys learning Spanish to better serve this community in the clinic. He loves spending time with his wife and five kids, hiking, working as a mobile disc jockey of 21 years, roller blading, karaoke, music and dance.
Jordan Manlove, Patient Service Specialist
Jordan earned a bachelor's degree in biology with a concentration in allied health in 2019 from Elizabethtown College. Jordan intends to become an assistant in either occupational or physical therapy. She has seen the incredible improvements therapy has made in her sister's life and aspires to help others achieve that as well. Jordan enjoys fishing, biking, and spending time with her fiancé and two cats, Timothy and Benjamin.
Katelyn Greene, Patient Service Specialist
Katelyn earned an associate's degree as a physical therapy assistant from Pennsylvania College of Technology in 2020. Katelyn enjoys working in the outpatient setting as it allows her to develop relationships with patients and see the improvement in their quality of life. She intends to work as a physical therapy assistant in the near future. She enjoys hunting, fishing, spending time with her fiancé, family and friends, going to Raystown Lake and traveling.
Allison Rutt, Patient Service Specialist
Allison graduated from Coastal Carolina University in 2011 with a bachelor's degree in business management. She has worked for the Granite Run center as a patient service specialist since it opened. She likes getting to know the patients and helping them throughout their physical therapy journey. Allison loves spending time with her husband and two sons. She enjoys being outdoors, hanging out with friends and has a passion for helping people.
Jessica Burghart, Physical Therapy Aide
Jess earned a certificate for fitness training from the International Sports Science Association in 2017. She has been with the NovaCare team since May 2018. Jess enjoys working in physical therapy and seeing patients' quality of life improve throughout treatment. She is continuing her education with a certification in sports injuries, and intends to pursue a degree for physical therapy assistant. Jess enjoys hiking, rock climbing and spending time with family.
Anthony Nguyen, Physical Therapy Aide
Tony is a student at Central Penn College in Lancaster. He is enrolled in their physical therapy program. He has a passion for helping other humans grow, heal, recover and progress in life. He is a strong advocate for mental health and wellness. His interests are cooking, Philly sports, health and fitness, drawing, dancing and learning about new world cultures and languages. He enjoys making memories with his loved ones and two dogs, Barley and Bruno.
All Services
Physical Therapy
Physical Therapy
Orthopaedic Rehabilitation
Cancer Rehabilitation
Fall Prevention Program
Manual Therapy
Men's Health
Neurologic Rehabilitation
Pain Management
ReVital Cancer Rehabilitation
Spine Program
TMJ/TMD Rehabilitation
Vestibular Rehabilitation
Women's Health
Bariatric Rehabilitation
Cupping Therapy
Fibromyalgia Treatment
Headache Treatment
Incontinence Therapy
Instrument-Assisted Soft Tissue Mobilization
Obesity / Bariatric Care
Pelvic Therapy
Personalized Orthopedic Weight Reduction Program (POWR)
Hand Therapy
Hand Therapy
Joint Mobilization
Sports Medicine
Sports Medicine
Concussion Management
Functional Movement Screen
Work Health
Functional Capacity Evaluations
Return-to-Work Program
Work Conditioning
Post-Offer Employment Testing
Injury Prevention
Work Hardening