Find Location
10401 Sawmill Parkway
Suite B
Powell, OH 43065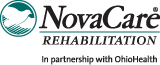 Hours
| Day of the Week | Hours |
| --- | --- |
| Monday: | 7:00 AM - 7:00 PM |
| Tuesday: | 7:00 AM - 7:00 PM |
| Wednesday: | 7:00 AM - 7:00 PM |
| Thursday: | 7:00 AM - 7:00 PM |
| Friday: | 7:00 AM - 3:00 PM |
| Saturday: | Closed |
| Sunday: | Closed |
Featured Services
Physical Therapy
Orthopaedic Rehabilitation
Sports Medicine
Recovery and Reconditioning
Arthritis / Osteoarthritis Program
Cancer Rehabilitation
Fall Prevention Program
View All Services
About
At NovaCare Rehabilitation in partnership with OhioHealth, our experienced clinical team will design an individualized plan of care that aligns with your specific goals in mind. Through experience, advanced clinical training and clear communication with our patients, our therapy team will give you the advantage in recovery. We are proud to be part of the community and are committed to providing each patient with an exceptional experience that promotes healing and recovery in a safe, compassionate environment. Call or request an appointment and experience the power of physical therapy today.
Our Team
Victoria Holdinski, P.T.
Vicki is an experienced therapist who earned a degree from The Ohio State University. She has spent the last 28 years treating patients in the Columbus area including the treatment of outpatient orthopedic and vestibular rehabilitation. Vickin enjoys working in her garden, making pickles playing with her cats and walking or biking with her husband.
Englebert Paray, PTA
Engelbert was born in the Philippines and raised in California. He moved to Columbus mid-year of 2022. Engelbert has been with the company for two years and enjoys treating a multiple of injuries with special interest in sports rehabilitation. He specializes in interpersonal communication and connecting with patient. He enjoys spending time with friends and family, lifting weights and working on his car.
Heather Kleinman, P.T., DPT
Heather has been working as a physical therapist for Select Medical since 2011 in New Jersey, Florida and Columbus, OH. She has focused on orthopedics and oncology rehabilitation, and enjoys working with all populations, including athletes, geriatrics and post-operative cases. She received certification in ReVital Cancer Rehabilitation and is working toward certification in the McKenzie Method of mechanical diagnosis and therapy for treatment of the spine. She enjoys staying active, traveling and spending time with friends, family and her mini Goldendoodle, Leo.
Colleen Sandro, M.S., P.T., COMT, WCS
Colleen has been as associate of the NovaCare Rehabilitation team at Powell for 24 years, with 30 years of clinical experience. She specializes in treating patients with orthopedic, pelvic health, bone health, oncology and temporomandibular conditions. She is certified in manual and manipulative orthopedic physical therapy and board certified in pelvic health physical therapy. Colleen received a bachelor's degree in biology from Hope College and master's degree in physical therapy from the University of Alabama at Birmingham. Her interests include snow skiing, snowboarding, traveling and reading.
Krista Folk, Patient Service Specialist
Krista serves as the patient service specialist for the Powell center. She has been with NovaCare since 2019 and previously worked for OhioHealth for more than 10 years. She loves working with patients to ensure they always feel taken care of. She is responsible for front office matters, but works closely with all clinicians to see that patients receive the best quality care. Krista has one puppy Bichon/poodle mix named Priscilla and one older dog named Hobie, which she considers her furry angels. Krista enjoys working out, watching sports, spending time with animals and traveling to see her family in Jacksonville, Florida.
Randy Sue Katz, P.T.
Randy is an accomplished clinician with more than 36 years of clinical experience in outpatient orthopedic rehabilitation. Her noteworthy successes include the rehabilitation of post-surgical interventions which include total hip and knee replacements, shoulder and ankle procedures. Randy's practice also includes consistent work with low back, thoracic and cervical spine pain. Randy believes that is is her job to help patients to help themselves so they no longer require medical services for their condition. Hence, she focuses the course of therapy on education in a home program which includes pain-management strategies and exercises to attain recovery as quickly as possible. Randy received a bachelor's degree in physical therapy from Washington University in St. Louis. She enjoys salsa dancing, yoga, fitness walking and playing and teaching mahjong.
All Services
Physical Therapy
Physical Therapy
Orthopaedic Rehabilitation
Recovery and Reconditioning
Cancer Rehabilitation
Fall Prevention Program
Manual Therapy
Pain Management
Pre-/Post-Operative Care
ReVital Cancer Rehabilitation
Spine Program
Vestibular Rehabilitation
Women's Health
Fibromyalgia Treatment
Incontinence Therapy
Osteoporosis Management
Pelvic Therapy
Prenatal/Postpartum Rehabilitation
Hand Therapy
Arthritis / Osteoarthritis Program
Joint Mobilization