Find Location
1117 Yard Street
Grandview Heights, OH 43212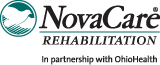 Hours
| Day of the Week | Hours |
| --- | --- |
| Monday: | 8:00 AM - 7:00 PM |
| Tuesday: | 7:00 AM - 2:00 PM |
| Wednesday: | 7:00 AM - 7:00 PM |
| Thursday: | 8:00 AM - 7:00 PM |
| Friday: | 7:00 AM - 3:00 PM |
| Saturday: | Closed |
| Sunday: | Closed |
Featured Services
Physical Therapy
Sports Medicine
Dry Needling
Spine Program
Pelvic Therapy
View All Services
About
At NovaCare Rehabilitation in partnership with OhioHealth, our experienced clinical team will design an individualized plan of care that aligns with your specific goals in mind. Through experience, advanced clinical training and clear communication with our patients, our therapy team will give you the advantage in recovery.
We are proud to be part of the community and are committed to providing each patient with an exceptional experience that promotes healing and recovery in a safe, compassionate environment. Request an appointment and experience the power of physical therapy today.
Our Team
Paige McMahan, PTA
Paige graduated with her physical therapy assistant degree from Clark State College in 2022. Prior to earning her degree, she obtained a master's in sports coaching from The Ohio State University and a bachelor's degree in health & exercise science from Colorado State University. She also has a background coaching youth and college swimming as well as CrossFit. She has experience treating patients with many orthopedic conditions and has a clinical interest in pelvic health that she plans on exploring in the next calendar year. When Paige is not treating patients, she enjoys CrossFit, rock climbing, crafting and spending time with her cats.
Bridget O'Brien, P.T., DPT
Bridget has been a member of the NovaCare Rehabilitation team since 2019 and a physical therapist since 2016. She earned a doctorate of physical therapy in 2016 from Duquesne University. Bridget has treated patients in both outpatient and pediatric settings. She is certified in pelvic floor physical therapy, treating all female floor conditions, including incontinence, pelvic pain, bowel dysfunction and pregnancy/postpartum. Bridget is also certified in dry needling and running gait analysis. She believes strongly in physical therapy being a fun and holistic experience, getting patients back to the things they love as quickly as possible.
Aysa Bradford, Patient Service Specialist
Aysa has over a decade of experience in customer service and insurance verification processes. At the Grandview Heights center, Aysa is responsible for all front office operations, including managing patient schedules, insurance information, processing billing and in taking all patient paperwork. She also assists therapists in office and non-clinical tasks. When Aysa is not working in the clinic, she enjoys spending time painting and with her two young children.
Alexander Good, P.T., DPT
Alex has been a member of the NovaCare team since 2022 and practicing physical therapy since 2020. He is committed to quality, individualized patient care focused on maximizing functional independence and returning patients to healthy, active lifestyles. He has previous specialized experience in foot and ankle rehabilitation in addition to general orthopedics. He completed his undergraduate education at Miami University and received a doctorate of physical therapy at Mount St. Joseph University. He is an avid sports fan and enjoys running half/full marathons, hiking, traveling and cooking.
Marci Engardio, P.T., DPT
Marci has been a member of the NovaCare Rehabilitation team since graduating from Ohio University in 2009 and in leadership since 2014. She is a physical therapist by trade and is especially passionate about working with patients with low back pain, amputations and oncology related diagnoses. Outside of work, Marci adores spending time with her husband and little one while exploring all that Columbus has to offer. She loves to travel and considers herself a true foodie!
All Services
Physical Therapy
Physical Therapy
Dry Needling
Spine Program
Pelvic Therapy