Find Location
3773 Olentangy River Road
Suite 201
Columbus, OH 43214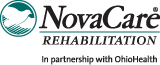 Hours
| Day of the Week | Hours |
| --- | --- |
| Monday: | 6:30 AM - 6:30 PM |
| Tuesday: | 6:30 AM - 6:30 PM |
| Wednesday: | 6:30 AM - 6:30 PM |
| Thursday: | 6:30 AM - 6:30 PM |
| Friday: | 6:30 AM - 4:00 PM |
| Saturday: | Closed |
| Sunday: | Closed |
Featured Services
Physical Therapy
Aquatic Therapy
Sports Medicine
Recovery and Reconditioning
Amputee Rehabilitation
Concussion Management
Dry Needling
View All Services
About
At NovaCare Rehabilitation in partnership with OhioHealth, our experienced clinical team will design an individualized plan of care that aligns with your specific goals in mind. Through experience, advanced clinical training and clear communication with our patients, our therapy team will give you the advantage in recovery. We are proud to be part of the community and are committed to providing each patient with an exceptional experience that promotes healing and recovery in a safe, compassionate environment. Call or request an appointment and experience the power of physical therapy today.
Our Team
Dora Mase, PTA
Dora has been a member of the NovaCare Rehabilitation team since 2021. She received a bachelor's degree from the College of Wooster and physical therapy assistant degree from Marion Technical College. She specializes in aquatics and sports medicine. When she is not at work, she is taking care of her neighbor's furry friends or trying a new recipe.
Thomas Leonard, PTA
Thomas joined the NovaCare Rehabilitation team at McConnell in January 2022 after working with the company since the summer of 2021. He enjoys working with a wide variety of patients and loves the challenge of finding individual treatments that work best for each patient. He specializes in treating patients who benefit from orthopedic rehabilitation, gait training, sports medicine, post-operative care and aquatic therapy. He received an associate degree in physical therapy assistant from Clark State College after receiving an undergraduate degree in environmental science from Goshen College and a master's degree in city and regional planning from The Ohio State University.
Tina Swiney, Lead Patient Service Specialist
Tina joined NovaCare Rehabilitation in April of 2019. She came to us with over 25 years of customer service experience. Tina welcomes patients, schedules appointments and verifies insurance, among many other duties. In her spare time Tina enjoys spending time with her family, eating great food and watching football and basketball.
Joseph Jones, P.T., DPT
Joseph is a graduate of The Ohio State University twice, receiving his undergraduate degree in exercise science education and his graduate degree as a doctor of physical therapy. Joe has a passion as a generalist, he wants to be able to help any and all populations. His specialties include sports medicine for athletes as well as function of the lower extremity. Joe has worked for NovaCare for 3 years.
Cheryl Lane-Curry, Patient Service Specialist
Cheryl joined the NovaCare Rehabilitation team in August 2022, with more than 20 years of experience in customer service. Cheryl has a background in emergency services, pharmacy and patient business services. She is dedicated to patients' needs and satisfaction. Cheryl is a grandmother of seven, which requires a lot of patience. Cheryl is the first and last contact person our patients see. She strives to set the pace for an exceptional service experience at McConnell Spine, Sport and Joint Center.
Mark Russ, P.T., DPT
Mark has been a member of NovaCare Rehabilitation with OhioHealth since 2019 and a dedicated clinician since 2015. He provides individual treatment plans with attention to manual therapy with the ultimate goal of improving biomechanics, decreasing pain, improving movement and returning each person to their preferred activities and prior level of optimal function. He is proficient in the treatment of orthopedic and sports related injuries, post-operative rehabilitation, balance rehabilitation and has special interests in treating all spine, hip, knee , shoulder and ankle pathology. Mark completed his undergraduate education at University of Notre Dame and doctorate of physical therapy from Marquette University. Mark has previous experience working in sports medicine at the University of Notre Dame. He enjoys running half/full marathons, hiking, gardening, going to concerts, traveling and spending time with family and friends.
Peter O'Brien, P.T., DPT
Peter has been a member of NovaCare Rehabilitation in partnership with OhioHealth since 2019 and practicing since 2016. HIs goal is to understand each patient as an individual and work in collaboration with them to achieve their goals. Peter has noted success in the treatment of post-surgical and non-surgical disorders with specialization in treatment of runners, golfers, vestibular disorders, TMJ disorders and use of dry needling.
Maureen Comyns, Patient Service Specialist
Maureen has been a member of the NovaCare Rehabilitation team since July 2019 and has a bachelor's degree of general studies from Ohio University. Maureen verifies insurance, obtains authorizations, welcomes patients and schedules appointments, among many other duties. She loves to read and spend time with her family and rescue puppy.
Carrie Indiciani, PTA
Carrie has been a PTA since 2004 and has worked for NovaCare in partnership with OhioHealth ever since. She specializes in and has a passion for aquatic physical therapy. Carrie loves to help people reach their goals to be able to live their best life. It brings such great joy to see her patients have success and be able to do the things they love to do. Carrie has helped design and implement Aquatic programs at other locations in the company and now is happy to be settled at McConnell and call it her home away from home. Carrie graduated from Marion Technical College in 2004.
Marci Engardio, P.T., DPT
Marci has been a member of the NovaCare Rehabilitation team since graduating from Ohio University in 2009 and in leadership since 2014. She is a physical therapist by trade and is especially passionate about working with patients with low back pain, amputations and oncology related diagnoses. Outside of work, Marci adores spending time with her husband and little one while exploring all that Columbus has to offer. She loves to travel and considers herself a true foodie!
Bridgette Kreuz, OTD, OTR/L, CLT, CCS
Bridgette is a certified lymphedema therapist who has worked in oncology rehabilitation within acute and outpatient settings. Several of her clinical interests involve the use of compression therapy in conjunction with exercise to manage lymphedema, evidence-based practice, seroma prevention/management and the role of obesity in lymphedema progression. Services that Bridgette provides include lymph drainage massage, exercise and facilitated stretches, scar tissue mobilization, compression bandaging, compression garment fitting, compression pump evaluation and evaluation of lymphedema and/or lipoidemia.
All Services
Physical Therapy
Physical Therapy
Aquatic Therapy
Recovery and Reconditioning
Amputee Rehabilitation
Dry Needling
Fall Prevention Program
Manual Therapy
Pre-/Post-Operative Care
ReVital Cancer Rehabilitation
Spine Program
TMJ/TMD Rehabilitation
Vestibular Rehabilitation
Osteoporosis Management
Sports Medicine
Sports Medicine
Concussion Management