Find Location
4850 East Main Street
Suite 130
Columbus, OH 43213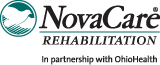 Hours
| Day of the Week | Hours |
| --- | --- |
| Monday: | 7:30 AM - 7:00 PM |
| Tuesday: | 7:30 AM - 7:00 PM |
| Wednesday: | 7:30 AM - 7:00 PM |
| Thursday: | 7:30 AM - 7:00 PM |
| Friday: | 7:30 AM - 3:00 PM |
| Saturday: | Closed |
| Sunday: | Closed |
Featured Services
Physical Therapy
Orthopaedic Rehabilitation
Sports Medicine
Recovery and Reconditioning
Amputee Rehabilitation
Fall Prevention Program
Joint Mobilization
View All Services
About
At NovaCare Rehabilitation in partnership with OhioHealth, our experienced clinical team will design an individualized plan of care that aligns with your specific goals in mind. Through experience, advanced clinical training and clear communication with our patients, our therapy team will give you the advantage in recovery. We are proud to be part of the community and are committed to providing each patient with an exceptional experience that promotes healing and recovery in a safe, compassionate environment. Call or request an appointment and experience the power of physical therapy today.
Our Team
Lisa J Lenhart, P.T.
Lisa has been a member of the NovaCare Rehabilitation in partnership with OhioHealth team at Eastside Health Center for 13 years, with 30 years of clinical experience. She has worked in the outpatient, inpatient and home health settings over the course of her career. Lisa specializes in treating patients who benefit from pelvic health, cancer rehabilitation, bone health and orthopedic physical therapy. Lisa obtained a physical therapy degree at Rockhurst University.
Christian Sauer, P.T., DPT
Christian has been a member of the Eastside team since 2021 after graduating from the University of Findlay with a doctorate in physical therapy. He has experience working with patients of all diagnoses and has a background in both outpatient and acute care. Christian has a passion for strength training and uses his knowledge in athletics in conjuncture with his therapy skill to help patients achieve their goals and return to the level they want to be. Originally from Cleveland, Ohio, Christian is an avid Browns, Cavs and Guardians fan. He enjoys exercising, trying new restaurants and spending time with his significant other and two cats.
Emily Evans, P.T., DPT
Emily has been a member of NovaCare Rehabilitation since 2017. She graduated from Chatham University in 2016 with a doctorate of physical therapy. She has continued education in concussion rehabilitation and is certified in dry needling. Emily enjoys working with all patient populations. Her free time is spent spending time with friends and family, playing with her dogs and running.
Keturah Crouch, PTA
Keturah has been a therapist with Select Physical Therapy since 2021. She has experience working in assisted living facilities, skilled nursing, home health settings and outpatient settings. Keturah earned a physical therapy assistant degree at North Central State College. She is passionate about working in underserved communities and helping others get back to doing what they love. Keturah enjoys staying active outdoors, going to the gym and hanging out with her fiance and cat.
Brooke Pepper, PTA
Brooke has been a member of the NovaCare Rehabilitation in partnership with OhioHealth team at Eastside Health Center since 2008. She has worked at high schools and the outpatient setting over the course of her career. She specializes in athletic and sports medicine , orthopedics and bone health. She earned a bachelor's degree in athletic training at Capital University and master's degree in exercise science from The University of Toledo. She has since received her physical therapy assistant degree in 2011 from Kent State University.
Jeriah Cline, PTA
Jeriah is a physical therapist assistant who earned a degree from Marion Technical College. He has been with NovaCare since 2022. Jeriah has experience working in outpatient orthopedic setting involving non-surgical and post-surgical conditions as well as with athletes and individuals needing gait training. Jeriah enjoys lifting weights at the gym and hiking.
Samantha Ortiz, Patient Service Specialist
Samantha has over 20 years of experience in the medical field, and has been with NovaCare since 2021. Samantha was actually a patient at NovaCare, and loved the environment, love and care that everyone in the clinic showed that she wanted to stay! When not at work, Samantha loves to spend time with her family and cat.
All Services
Physical Therapy
Physical Therapy
Orthopaedic Rehabilitation
Recovery and Reconditioning
Amputee Rehabilitation
Fall Prevention Program
Manual Therapy
Pain Management
Pre-/Post-Operative Care
ReVital Cancer Rehabilitation
Spine Program
Vestibular Rehabilitation
Women's Health
Blood Flow Restriction
Fibromyalgia Treatment
Headache Treatment
Incontinence Therapy
Instrument-Assisted Soft Tissue Mobilization
Osteoporosis Management
Pelvic Health
Prenatal/Postpartum Rehabilitation