Find Location
6307 Ventnor Avenue
Ventnor, NJ 08406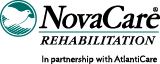 Hours
| Day of the Week | Hours |
| --- | --- |
| Monday: | 7:30 AM - 7:00 PM |
| Tuesday: | 8:15 AM - 3:00 PM |
| Wednesday: | 7:30 AM - 7:00 PM |
| Thursday: | 8:00 AM - 7:00 PM |
| Friday: | 7:30 AM - 3:00 PM |
| Saturday: | Closed |
| Sunday: | Closed |
Featured Services
Physical Therapy
Orthopaedic Rehabilitation
Sports Medicine
Functional Capacity Evaluations
Return-to-Work Program
Work Conditioning
Lower Extremity Prosthetics
View All Services
About
At NovaCare Rehabilitation, in partnership with AtlantiCare, we know that injuries are never scheduled, but relief can be. If you're injured, tired of having less mobility or experiencing aches and pains, let our licensed clinical experts help. We believe movement is medicine and are committed to helping you get back to work, athletics and daily life. The road to recovery starts with NovaCare!We are proud to serve your community and are committed to providing each person an exceptional experience that promotes healing and recovery in a safe, compassionate environment. Request an appointment and experience the power of physical therapy.
Our Team
Laura Hanson, P.T., DPT, CAPP-Pelvic, Center Manager
Laura has completed training and earned her certificate of achievement in pelvic floor physical therapy through the American Physical Therapy Association. A dedicated professional with a strong background in orthopedics, Laura also specializes in the treatment of upper and lower body injury, spine injury and surgical procedures. She is a skilled lecturer and has presented several NovaCare CEU programs to nurse case managers on the topics of gait training and the use of assistive devices. On a daily basis, Laura is focused on compassionate care with an emphasis on the total well-being of her patients. Laura earned a bachelor's degree in health sciences from the University of Western Ontario, a master's degree in physical therapy from D'Youville College and doctorate of physical therapy from Arcadia University.
Michael Peoples, P.T., DPT, COMT
Mike is a valued member of the NovaCare clinical team who enjoys treating a diverse patient population with a particular interest in sports medicine and orthopedic injuries. He is passionate about physical fitness for himself and translates that enthusiasm and determination to his patients as he encourages them to strive for an overall healthy and active lifestyle. Mike is skilled in treating all shoulder pathologies, neuropathies and low back pain, as well as being well versed in stabilization techniques. A good motivator, who is also empathetic and compassionate, Mike's greatest reward is retuning his patients to good health physically, mentally and emotionally. Michael earned his bachelor's degree in 2013 and doctorate degree in 2016 from Stockton University.
All Services
Physical Therapy
Physical Therapy
Orthopaedic Rehabilitation
Recovery and Reconditioning
Cancer Rehabilitation
Manual Therapy
Men's Health
Pre-/Post-Operative Care
ReVital Cancer Rehabilitation
Spine Program
Women's Health
Instrument-Assisted Soft Tissue Mobilization
Pelvic Health
Sports Medicine
Sports Medicine
ACL Program
Concussion Management
Functional Movement Screen
Work Health
Functional Capacity Evaluations
Return-to-Work Program
Work Conditioning
Ergonomic Programs
Injury Prevention
Safe Patient Handling
Utilization Management System
Prosthetics & Orthotics
Lower Extremity Prosthetics
Spinal
Mastectomy