Find Location
4000 US Highway 9 South
Rio Grande, NJ 08242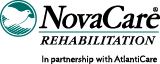 Hours
| Day of the Week | Hours |
| --- | --- |
| Monday: | 7:00 AM - 7:00 PM |
| Tuesday: | 7:00 AM - 4:00 PM |
| Wednesday: | 7:00 AM - 7:00 PM |
| Thursday: | 7:00 AM - 7:00 PM |
| Friday: | 7:00 AM - 2:00 PM |
| Saturday: | Closed |
| Sunday: | Closed |
Featured Services
Physical Therapy
Orthopaedic Rehabilitation
Hand Therapy
Hand Therapy Certified
Occupational Therapy
Sports Medicine
Functional Capacity Evaluations
View All Services
About
At NovaCare Rehabilitation, in partnership with AtlantiCare, we know that injuries are never scheduled, but relief can be. If you're injured, tired of having less mobility or experiencing aches and pains, let our licensed clinical experts help. We believe movement is medicine and are committed to helping you get back to work, athletics and daily life. The road to recovery starts with NovaCare!We are proud to serve your community and are committed to providing each person an exceptional experience that promotes healing and recovery in a safe, compassionate environment. Request an appointment and experience the power of physical therapy.
Our Team
Ronald Glover, P.T., Center Manager
Ronald is a physical therapist and center manager for NovaCare Rehabilitation's Rio Grande center. He specializes in orthopedics, sports and dance medicine, post-surgical rehabilitation of the shoulder, hip, knee and foot. He earned a bachelor's degree in physical therapy in 1998 from Tennessee State University and has since completed numerous continuing education courses. Ron is a certified trainer through the National Academy of Sports Medicine and a member of the National Strength and Conditioning Association and International Association for Dance Medicine and Science.
Christina Robson, OTR
Christina is an occupational therapist who works with patients from pediatric to geriatric with upper extremity maladies and post-surgical interventions. Her true expertise is the treatment of carpal tunnel release, wrist and finger fractures, tendon injuries and tendonitis and wound care management. Christina is a graduate of Misericordia University with a master's degree in occupational therapy and has complemented her clinical expertise with a number of continuing education courses.
Maegan Sharkey, P.T., DPT
Maegan is passionate about patient care for each and every person who comes through the door. Using a highly patient-focused approach, her mission is to understand each patient, help them to reach their goals, and ensure that they are actively participating in their rehabilitation journey. She has notable success in the evaluation and treatment of total knee replacement, rotator cuff injury and ankle sprains and fractures. On a daily basis, Maegan is focused on providing compassionate care, motivating patients to achieve their highest functional potential and educating them on the benefits of physical therapy and living an active lifestyle. Maegan received both her bachelor of science in 2019 and her doctorate of physical therapy in 2021 from Duquesne University.
All Services
Physical Therapy
Physical Therapy
Orthopaedic Rehabilitation
Cancer Rehabilitation
Fall Prevention Program
Manual Therapy
Pre-/Post-Operative Care
ReVital Cancer Rehabilitation
Spine Program
Vestibular Rehabilitation
Blood Flow Restriction
Cupping Therapy
Instrument-Assisted Soft Tissue Mobilization
Osteoporosis Management
Hand Therapy
Hand Therapy
Hand Therapy Certified
Occupational Therapy
Arthritis / Osteoarthritis Program
Joint Mobilization
Orthotics Upper Extremity - Hand/Arm
Sports Medicine
Sports Medicine
ACL Program
Concussion Management
Functional Movement Screen
Performing Arts / Dance Rehabilitation
Work Health
Functional Capacity Evaluations
Return-to-Work Program
Work Conditioning
Ergonomic Programs
Injury Prevention
Safe Patient Handling
Utilization Management System
Prosthetics & Orthotics
Upper Extremity Orthotics
Spinal